Cut, hairstyle, highlights, color, forming, gray reduction, hair compression and hair extensions - we offer all services in the field of professional hair and scalp treatments. Above all, we take care of the health of hair and the biological balance of the scalp. For you too.
We love hair
Through our over 25 years of expertise in hair fashion, hair treatment and maintaining the health of the scalp, we contribute significantly to the well-being and good looks of our customers. Listening, looking, consulting, tackling - these are the cornerstones that guarantee the success of our work for you. No matter what requirements.
Show yourself at one's best
Stop looking at the perfect beauties in advertisements and journals. That's the way you look! It costs much less time and effort than you might imagine.
We will do it.
Cut, colors, extensions and perms technique for the highest requests:
The whole Service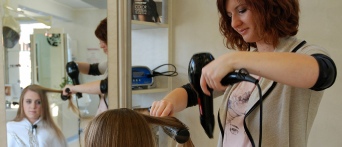 Warranted perfection
We love hairstyle. And know that it depends on the people who stand behind it. We discuss the effect of our work with you. Before we begin. So that everything becomes perfect. You always know what you get from us. The finest fashion. Personality. Warranted.
We make Heads.
Gabriele Zellerhoff
For your nicer life.