Gabriele Zellerhoff
Für Ihr schöneres Leben.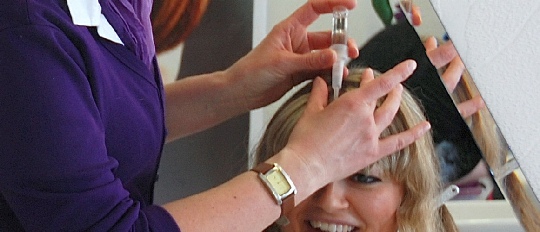 The hair growth is in the lower part of the hair follicle, held by the hair root. It is powered from the disc with the necessary nutrients, with, among other amino acids, and trace elements Mucopolysacrhoriden. Here, the hair gets his growth.
The ampoule concentrate Bio-Fanelan vigour meets weak growths and vague loss of hair: It promotes a better blood circulation of the scalp and stimulates the energy metabolism. Though with it bald surfaces cannot be afforested again, however, the treatment can strengthen weakly hair again and bend forward untimely loss of hair.
Bio-Fanelan supplies the hair root with Bio-Stimulatoren, trace elements, proteins and sugar connections in concentrated form which provide for their part for the energetic push in the area of the hair roots. The impetus for the growth are enhanced, the remaining hair is gaining more strength and stability.
Diffuse hair loss can be slowed by effective and quality of renewable hair can be significantly improved.
The secret
of a tiny phial
Only 8 cm small
with a huge effect
slows hair loss
prolongs the life of the individual hairs
supplies the papilla with vitamins and proteins
shortens the resting phase of the hair root to hair loss
strengthens the hair roots and provides them with bio-stimulators and trace elements
provides improved quality of regrowth
fine hair gets
more body and hold
Gabriele pampering time 15 minutes
Treatment price
inclusive ampoule € 13,50
We recommend a personal consultation
Bright moments and hair loss ratios?
Contrast Program