Gabriele Zellerhoff
For your nicer life.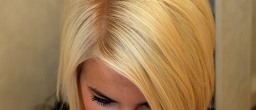 Home
Address
With thin hair is like a thin tree in comparison to thick. A storm and adverse environmental influences to cut him just lighter than the thick oak. And the stress that such a hair is exposed during its seven-year life, can very well with "Stormy" rewrite.
Just think of the hair dryer incident like a hot desert wind. To the showers that go down every day in the shower. And then the wrangling with combs and brushes. These normal everyday stress by UV-containing sunlight and dirt particles in the air.
Because fine and thinning hair naturally is only about half as thick (0.05 to 0.07 millimeters in diameter) and strong (0.08 to 1 millimeter in
diameter), it has mechanical stresses such as washing, combing, blow drying, only half as much and oppose suffers twice. Also too intense acting care products are for the fine hair sometimes too much. It is weighted and thereby to its knees under the load. What it lacks are natural stability, hold and volume.
Our Pilvicure 3-Phase shaft treatment for fine hair (La Biosthetique) contains protein, which improves the hair structure. Hair and scalp are strengthened and invigorated. You can store more moisture, the hair gets more volume, shine and protection. And that makes our Pilvicure 3-Phase shaft treatment for the capacity building support for the hair:
Stage 1: Cleaning
leads already to the hair when shampooing Ceramidananloge, so that the cuticle in its function to protect the hair inside, optimally supported. Wheat peptides favor the contact between the hair root and Ceramidanalogen.
Stage 2: Hair Bath
donates the hair lipoamino acids and soybean oil which is rich in vitamin E. This is the basic care, which compensates for the shortcomings of keratin in the hair inside. The keratin structure is strengthened and improved resilience.
Stage 3: Hair Shaft Treatment
Ceramidanaloge keratin and restructure the hair and improve the barrier function of the cuticle. The connection substance between the Keratinplättchen is strengthened. The seals are supplied with the shampoo conditioners.
Treatment time in the salon:
approx. 20 Minuten
Gabriele performance at .... € 19,00

For fine, thin hair:
Hair structure strengthening