Hairdressers in Paderborn
Gabriele Zellerhoff © All rights reserved
Home
Address
Our hair extensions -
a game without limits.

We make Heads.
Gabriele Zellerhoff
For your nicer life.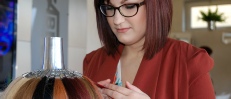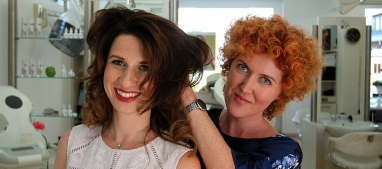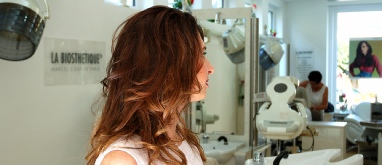 Starting point here:
Long hair, before the hair treatment
The completely new hair volume after the
incorporation of our human hair strands
At the same time, the shimmering balayage
effect supports the interesting appearance
An example:
long-hair optimization by hair extensions
Longhair optimization can significantly influence your personal appearance
Our ultrasound hair dough is the best method of incorporating long strands of hair. Our finest precision work meets the highest quality expectations.
We use a variety of hair optimization options: in terms of color, length, texture and even pre-worked hair styles.
For the "normal hair extension" 6 different lengths from 20 to 60 cm are available as standard, in "Standard", "Fine" and "Extra Fine". There are about 50 natural shades to choose from.
There are 5 different pre-treated hair structures, from smooth to curly and smoothed.
For real hair highlights by bonding, there are the varieties "Jewel" and "Pastel". Jewel highlights are prepared with rich, dark colors, and give their own brilliance any style of hair an exclusive touch.
Pastel highlights are in delicate shades, for triggering a special shimmer in the hair - ideal for the creation of finely tuned color effects.
With colorful human hair strands can bring spectacular contrasts in the hair immediately
Our range of soft hair strands forms the basis for balayage effects with interesting and natural-looking hair shades
We use only the same human hair with uniform flowing hair dandruff and stabilized color pretreatment.
We take the time for the careful arrangement and connection of each strand. Our hair fixings are particularly durable thanks to our ultrasonic bonding.
Our ultrasonic hairbonding for a particularly good grip
Hair extensions are available
- to increase the hair density
- to extend existing hair
- for the incorporation of color already prepared
highlights.
For our professional hair multiplication and increase of the hair density we use only high quality human hair of the system Great Lengths.
You have long hair
and the right kick is missing?
Talk to us!
You want a short hair extension?
No problem. The hair grows on average by about 12 cm per year. Shortening the waiting time by attaching extensions is also possible with shorthair from a basic length of 6 to 8 cm, assuming a stable hair structure.
You want hair volume?
No problem with hair extensions / hair locks. Take the time for a detailed consultation and make an appointment.
Your benefits:
- Compensation of hair loss
- Enlargement of the hair volume
- Effect-adapted hair styles
- Immediate bonding of color streaks