Our color shades are carefully prepared - with discretion.
Haircut in great shape
As a man, with us you are on the best place. We offer the best and most accurate men's haircut in Paderborn! After hair cleansing with 5-zone flow massage you get your personal hair design by professional cutting technology. Our precise cut support your overall appearance and support you for your home hair styling.
And: We know the hair fashion 2017 from Hamburg, Paris and Rome.
also creates the conservation of natural hair shade between light and dark, so your quick makeover is not obvious.
Nothing there with Goth!
Supersmooth skin on the face stands good to you?
With us man is still spoilt like at barber's times! A thorough wet shave with knife & shaving-foam becomes your unforgettable experience! After the shave your skin is fortified with a pack and is vitalized with reassuring Visaromen. In the end we apply a humidity-making a donation lotion. More flatly it does not go!
With all achievements the healthy preservation of your hair and your scalp comes first for us. Therefore, we offer you not only with cut and hairstyle, but also with all other treatments individual protection and care for scalp and hair. Our Dermosthetique-nursing series of La Biosthetique is an absolutely new cell-active Anti Aging program for skin and for hair and activates mother's cells of the skin. There is not a more actual Anti Aging method.
Gabriele Zellerhoff
For your nicer life.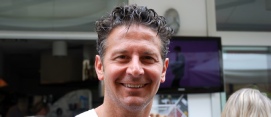 Ever thought about Grey reduction? The conversion rate of our grey reductions is amazing. Our perfect hair -pigment accumulation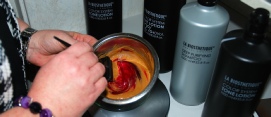 An expressive,
Dynamic appearance: Yours
Our oasis for guys